Robotics Team
The Decatur Robotics team is a group of fourth to eighth graders who meets once a week from 3 – 6 PM. The team of 10 to 15 selected students participate in the First Lego League. This program uses science, technology, engineering and math concepts (STEM) to solve real world problems such as food safety, recycling, or energy and develop a solution. They learn to work as a team. They also build a robot with Lego Mindstorm technology to complete missions on a playing field. Ten of the students are chosen to compete in a First Lego League Challenge each year.  You can read more about this program at firstlegoleague.org.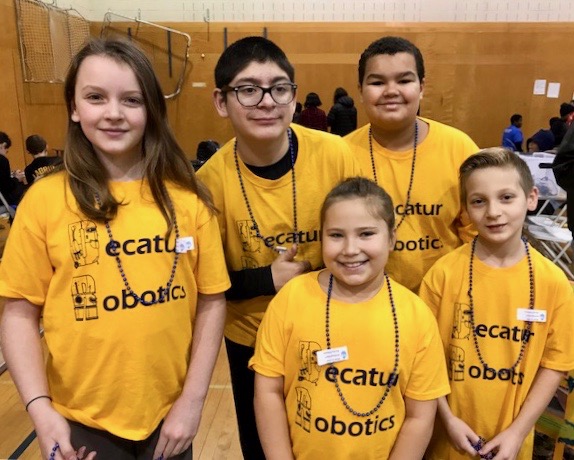 2017-2018 Team Project
This year's team's project was titled "What is in Your Drinking Water?" Our project is to inform people on ways to improve the quality of the water running into the Poquessing Creek. This water is the water we drink! We showed that rain water going into the storm sewers form the streets carries pollution, especially road salt directly into the creek. Rain that falls onto the ground absorbs in to the soil and is cleaned by filtering through the soil levels before seeping into the creek. The Poquessing Creek flows into the Delaware River just above the Baxter Water Treatment Facility, where the water is treated before coming into our houses. Our presentation of this project earned us 2nd place in presentation.